Student Profile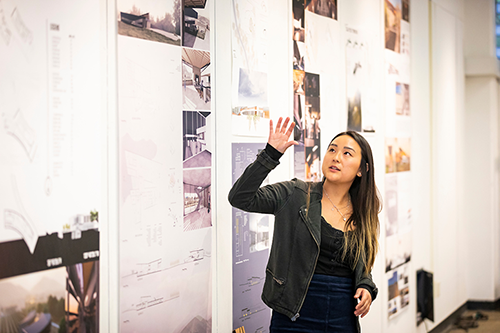 Image: A student from Architecture 351 ("Architectural Design") presents her work over the past quarter (Fall 2019).
---
Like other universities, Cal Poly follows the progress of its students— both freshmen and transfer — by annual cohorts entering in a particular academic year. The university considers their entering academic qualifications — high-school GPA, test scores, etc. — in relation to the time required for them to graduate after completing their degree programs. This time-to-degree metric can conceal much about a group of students, but it is nevertheless a standard measure of institutional success in higher education.
In addition to this cohort-based approach, Cal Poly tracks academic information about its students at large — their class level (freshman, sophomore, etc.), unit load (full or part time), enrollment status (freshman, transfer, etc.), and academic standing (good or otherwise). The university also tracks a variety of demographic information about its students —their gender, ethnicity, California state residency, and Pell Grant status (recipient or non-recipient). These are important markers of progress toward Cal Poly President Jeffrey D. Armstrong's Vision 2022 goal to "create a rich culture of diversity and inclusivity that supports and celebrates the similarities and differences of every individual on campus."
---
---
Reference:
Institutional Research at California Polytechnic State University (2019). 2018 Fact Book. Retrieved from https://ir.calpoly.edu/https%3A//ir.calpoly.edu/2018-factbook.
Related Content